Each box contains 12 bars.
There's no better combination than Milk Chocolate, Hard Shell Peanut Butter Candy, & Pretzels! Monster Cookie Crunch is loaded down with 20g of Protein & filled with so much flavor you won't believe it's not a candy bar! We have truly created a Monster!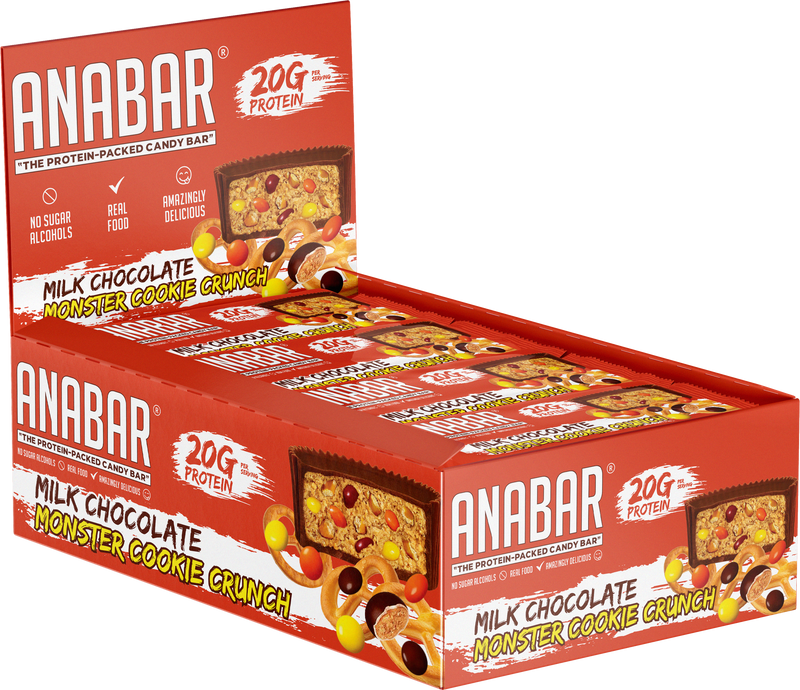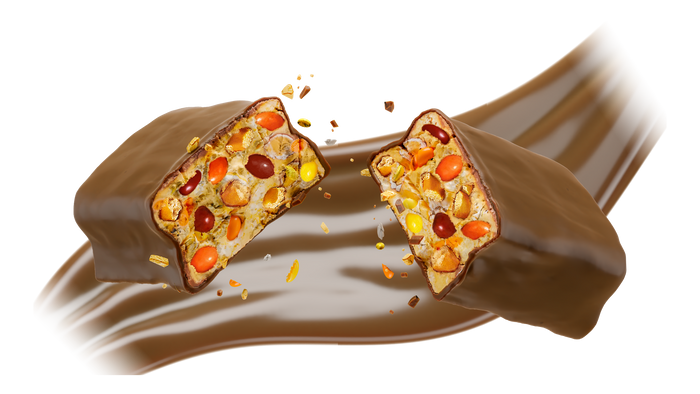 Real Peanut Butter
We use Real Peanut Butter in our bars to create the smooth texture & rich, melt in your mouth flavor!
Real Candy & Pretzel Pieces
We use Real Peanut Butter Candy & Pretzel pieces in our bars to ensure every bite feels like a guilty pleasure!
Milk Chocolate
We use 100% Authentic Milk Chocolate as a coating to enhance the flavors & create a truly memorable experience with every bar!
WHEN TO USE ANABAR
ANABAR provides amazing taste without compromising on quality ingredients. We pride ourselves in figuring out the solution to balance both taste and quality.
Breakfast
On busy mornings, just grab and go.
Afternoon
To kick the afternoon cravings!
Post Workout
A clean energy source with 20 grams of protein.
Travel
Stash in your bag for an easy, on-the-go snack.
WHY CHOOSE ANABAR?
The Anabar was designed to be the BEST TASTING protein bar you've ever had without sacrificing on Protein or causing digestive issues due to sugar alcohols & excess fiber. These are perfect for a dessert-like snack or to use as a meal replacement! We can officially say goodbye to taffy-like protein bars & the chemical aftertaste that goes along with them! Once you go Anabar, you'll never go back!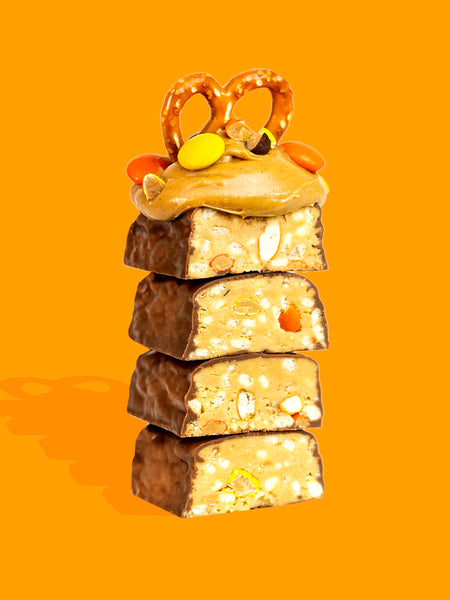 REVIEWS
Anabar Milk Chocolate Monster Cookie Crunch
Best Protein bar ever!!!!
This is by far the best protein bar I've ever eaten. I've tried many and there is no comparison.
Good but….
The bar is delicious. I just wish the chocolate on the outside of the bars did not melt and leave a mess within the package. Ally my bars were like this, including the strawberry cup cake.
Monster cookie crunch
Delicious. Best protein bar I've had. Higher on calories than most but that's where the flavor comes in. Honestly tastes like a candy bar. Fast shipping. No issues. Will be reordering
Best protein bar!!
One of the best if not the best protein bar I have ever had. Chocolate Monster Cookie Crunch is my new favorite flavor.